Wash dishes. Wipe up spills.
Scrub counters. Clean mirrors.
Use your Swedish Dishcloth to clean virtually any household surface:
counters, floors, wood, glass, granite, tile, ceramic, stainless steel, and more.
Cleans streak-free.
Works well with just water, soap, and sprays.
Air dries fast, so it doesn't breed bacteria like a sponge.
TIP: If you wet the cloth before use, it will be even more absorbent.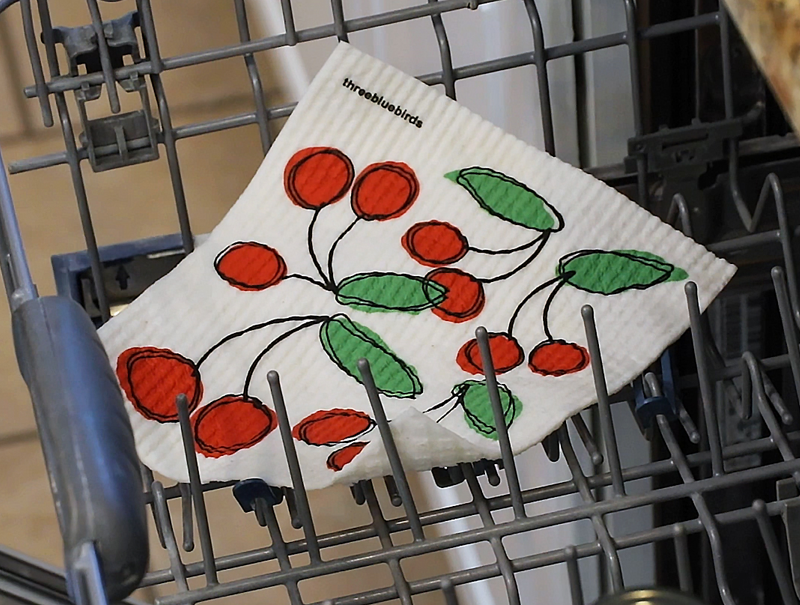 Reuse and wash up to 200 times!
How to keep your cloth clean:

Squeeze out excess moisture after use. To preserve shape, do not wring.

Place in the top rack of the dishwasher or in the washing machine at least once a week.

Sterilize in boiling water for 1-2 minutes.

Microwave damp for 30 seconds.

Air dry. Leave flat, drape over faucet or dish rack.
What to Avoid
Do not leave saturated in water.
Do not tumble dry. Machine drying may cause shrinkage and shorten lifespan.
Be careful when cleaning knives and graters, as these may cut the cloth.
End of Life
Depending on use, Three Bluebirds Swedish Dishcloths will last 6-9 months.
The dishcloth may darken over time. This does not impact its effectiveness or cleanliness, as long as you keep it clean and sterilized.
You can retire your cloth when it has darkened and begins to wear thin.
It is compostable and 100% biodegradable so it won't linger in landfill.